Ashley Public School is located in the heart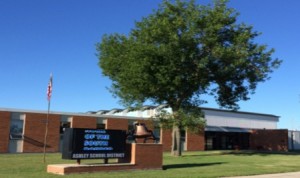 of prime hunting and fishing areas amidst the rolling hills and miles and miles of beautiful crop land. The outstanding staff of our school, working in concert with our community of students and parents, provide a challenging, dynamic environment for learning, characterized by high measurable standards, opportunities to grow and develop and a commitment to continuing reflection and improvement, fulfilling its mission of nurturing students to aspire and achieve. Our class sizes are small ranging from 5 students to 14 allowing us to provide individualized instruction.  Ashley Public School students scored among the top five throughout all North Dakota Schools on the Smarter Balance state test in 2015.  Ashley Public School was  recognized as the #1 school in North Dakota in 2017 through Niche.com. 
Ashley elementary and Ashley high school students are housed in a single building  covering 77,560 square feet.  The school building has a Community Wellness Center with state-of-the art cardiovascular and weight training equipment.  Ashley High School offers a variety of ITV classes through the Great Western Network (including some dual credit college courses) as well as several online classes through the Missouri River Area Career Technology Center.  The school also boasts a well maintained grass football field, a golf course, and a baseball field.
While our enrollment is small and remains steady at around 145 students, there are always plenty of things for them to be involved in.  Extracurricular sports programs available to students include:  football, volleyball, boys and girls basketball, wrestling, boys and girls track, boys and girls golf.  The South Border Mustangs co-op includes Ashley and Wishek with the exception of wrestling which partners with Zeeland as well.  Other extracurricular programs available are yearbook, speech, drama, FBLA, FFA, choir, and band. 
The district currently employs 18 instructional staff and 11 support staff.  We also have a full time school counselor.
Preschool is held full days on Tuesdays and Thursdays.  Kindergarten is held full days Monday through Friday.
The district employs a full-time Title I reading and math teacher, a full-time special education teacher and contracts part-time speech therapy services.  The district belongs to the South Central Prairie Special Education Unit.